<![if !vml]>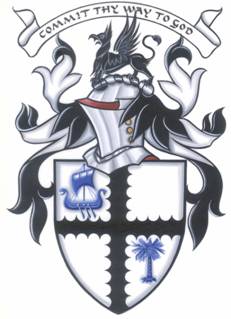 <![endif]>Arms for Melvin "Mel" Sinclair, Jr.
From the Court of The Lord Lyon, King of Arms, David Sellar,
May 17, 2010.
Argent, a cross engrailed Sable between in dexter chief a
dragonship under sail oars in action and in sinister base a
palmetto tree Azure.
Public Register of All Arms and Bearings in Scotland.
Crest: A griffin statant wings elevated Sable

Motto: Commit Thy Way To God.
Background and rationale for symbols and motto:
Images on Arms:
The shield is based on the Engrailed Cross, the undifferentiated arms of Sir Malcolm Sinclair, The Rt. Honourable The Earl of Caithness, Chief of Clan Sinclair.

Family origin: A Dragonship (a Viking sailing vessel) is used to represent the original Sinclair ancestry from Norway and subsequently France and Scotland. Sailing is my favorite activity.
The Palmetto Tree: The Palmetto Tree represents South Carolina, documented home of my line of Sinclairs for over 200 years (John Sinclair born abt 1780). An image of the Palmetto Tree can be found on the South Carolina State Flag.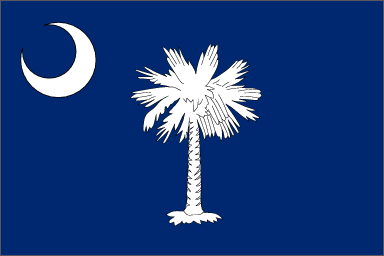 An explanation of the Palmetto Tree follows: Asked by the Revolutionary Council of Safety in the fall of 1775 to design a flag for the use of South Carolina troops, Col. William Moultrie chose a blue which matched the color of their uniforms and a crescent which reproduced the silver emblem worn on the front of their caps. The palmetto tree was added later to represent Moultrie's heroic defense of the palmetto-log fort on Sullivan's Island against the attack of the British fleet on June 28, 1776.
These two images, the dragonship and the palmetto tree, connect my distant past (seafaring, Norse, and Scot) with my more recent and current USA heritage. My Coat of Arms is meant to be relevant, symbolic, and clean in appearance.
Keep in mind that there is no such thing as a "family" coat of arms. A coat of arms belongs to an individual.
Crest image:
The Griffin: The Griffin is a part of the Chief's differentiated Arms.
This legendary Griffin has the body of a lion and the head and wings of an eagle. As the lion was traditionally considered the king of the beasts and the eagle was the king of the birds, the griffin was thought to be an especially powerful and majestic creature. Griffins are normally known for guarding treasure. In antiquity it was a symbol of divine power and a guardian of the divine. The Sinclair lineage is somewhat mysterious by many accounts.
Motto:
The Chief's Motto is "Commit Thy Work to God", believed to be Biblical in nature and taken from Proverbs 16:3 (KJV).
In keeping with the theme of the Chief's Motto, Biblical source, and my personal faith, the motto for my Coat of Arms is "Commit Thy Way to God", taken from Psalm 37:5-6 (KJV).