<![if !vml]>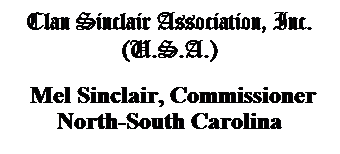 <![endif]>

<![if !mso]><![endif]> <![if !vml]>

<![endif]>

<![if !vml]>

<![endif]>
June 2004
Greetings from the Carolinas!
Our most noble Clan Sinclair is to be recognized once again! Clan members and friends, it is nearly time for the Grandfather Mountain Highland Games (July 8-11 – http://www.gmhg.org), however as you may well know, this year is significantly different. The hereditary Chief of Clan Sinclair, Lord Caithness, the Right Honorable The Earl of Caithness, will be the Honored Guest, with Clan Sinclair being the honored Clan. I know that you will not want to miss this opportunity to spend time with Malcolm and to get caught up on the news surrounding our Clan activities and the Trust.
The atmosphere, the setting, and the fellowship, will all come together with Clan Sinclair being the honored Clan, to make this a most memorable occasion. In addition to Malcolm's visit, we will have "cousins" attending from Canada to Florida and New Hampshire to Texas to California. Among the Clan Sinclair USA officers attending are: Donald Sinclair (President), Mary Selver (Secretary/Treasurer), and Gary Sinclair, Western Vice President. We are also pleased that our special friends Brad Sinclair Barker (Past President of Clan Sinclair USA) and Rory Sinclair (President of Clan Sinclair Canada) will be joining us. Noted international performer Isla St. Clair, http://www.islastclair.tv/, will also be visiting from across the pond, performing at the Games and hopefully at our Clan Gathering on Saturday evening! Our very own Ron Sinclair (North Carolina) will open the Games each day by singing the National Anthem.
In addition to the Games, festivities include the Torchlight ceremony on Thursday evening, the Sponsor's Reception on Friday evening, and an "Elegant (but Informal) Buffet Reception for The Honorable Malcolm Sinclair, Earl of Caithness" on Saturday evening (see enclosed for detailed information). IMPORTANT and URGENT: 1) If you plan to attend the Sponsor's Reception on Friday evening, you must let me know immediately (E-mail) so that arrangements can be made. The cost is $35.00 per person unless a Sponsor/Patron type of package is purchased. 2) See the information below following this letter regarding the Saturday evening buffet reception and forward your check immediately to Mary Selver, Clan secretary, as noted.
If there are any questions, please let me know by e-mail, by calling my cell phone (e-mail me and I'll send you my cell phone number and postal address, if you need them). For your information, approximately two months ago I relocated and joined a "start-up" company. I'm still in South Carolina, but about 180 miles away from home. Considering the energy and effort required for a start-up coupled with the relocation, life is most interesting and challenging at this time. I ask for your patience and if you've communicated with me earlier about your attendance and plans, I request that you communicate with me once more about your intentions to attend the Games and any activities mentioned. Also FYI, I'll carry my cell phone at the Games, however, there are places of "no service" in the area. If you need my cell phone number, let me know via e-mail.
Let's give the Chief a warm and enthusiastic welcome and show our appreciation for all of the work that he does on behalf of the Clan. Best regards and I hope to see you at the Grandfather Mountain Highland Games!
Aye,
Mel
************Information re: Saturday Buffet in Honor of our Chief****************
You are Invited to an Elegant (but Informal) Buffet Reception for
The Honorable Malcolm Sinclair, Earl of Caithness
Saturday, July 10
6:00 p.m. – until
At the rental house of Brad and Sindy Barker on Sugar Mountain
(Directions to be provided at the Games for those attending. See bottom of page re: payment deadline)
Buffet Menu
Roasted Pork Loin and Smoked Turkey Breast (with rolls, horseradish cream and herbed mayonnaise)
Marinated Shrimp (with capers and red onions in an apple cider vinaigrette)
Smoked Salmon (served with herbed buttered baguettes and cucumber dill sour cream)
Ham Biscuits (Southern style) Skewered Mozzarella and Tomatoes
Deviled Eggs (specialty of the House) Assorted Fruit and Cheese Platter
Asparagus (wrapped with proscuitto) Vidalia Onion Spread (with crackers)
Cold Spinach and Ranch Vegetable Dips Toasted Cheese Olive Balls
Spring Garden Cheese Balls
Desserts
Texas Gold Bars Cream Cheese Brownies Apricot Bars
Haggis
Beverages
Single Malt Scotch
White and Red Wines
Beer
Soft Drinks
Children's Menu (free for wee Sinclairs under age 8)
Peanut Butter and Jelly Sandwiches
Goldfish
Lemonade
Make Checks Payable to Clan Sinclair, Mary Selver, 89 Sentury Way, Merrimack, NH 03054
Adults and Children (Ages 12 and Up) $35
Children (Ages 8 to 12) $15
Deadline for Registration – July 1, 2004